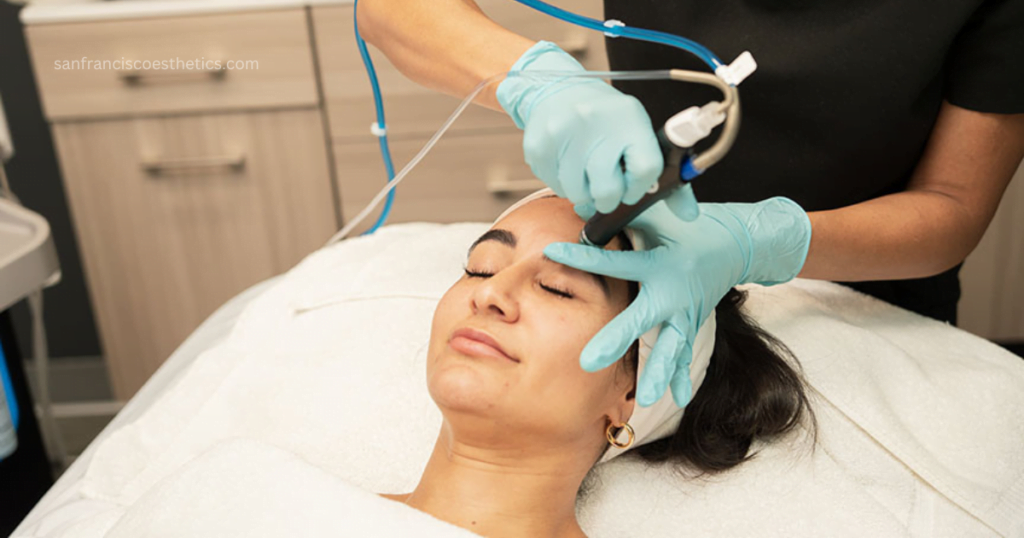 In a world where first impressions count, having healthy, glowing skin is important to many. Among the many skincare treatments available, one stands out as a game-changer: Hydrafacial. Join us as we explore the incredible benefits of this transformative treatment and learn how to nurture your skin for a radiant and revitalized glow.
San Francisco Esthetics, located in the peaceful Serramonte Mall in Daly City, California, invites you to experience the ultimate pampering. Step into our calm and welcoming space, where our friendly experts are ready to show you the wonders of Hydrafacial. Get ready for a treatment that will leave you with confident and beautiful skin.
Unveiling the Wonders of Hydrafacial:
Hydrafacial is a multi-step treatment that combines cleansing, exfoliation, and hydration for exceptional results. Our skilled estheticians start by gently cleansing your skin and applying a customized acid peel to remove dead cells. Then, our special suction technology extracts impurities and infuses your skin with nourishing serums tailored just for you.
Customized Skincare for Your Needs:
What makes Hydrafacial special is its ability to address various skin types and concerns. Whether you have acne, fine lines, dark spots, or uneven texture, this treatment can be personalized just for you. By using powerful antioxidants, peptides, and hyaluronic acid, Hydrafacial replenishes moisture, reduces redness, and gives your skin a youthful, supple look. Get ready to see your skin glow and feel revitalized.
Unmatched Benefits for Your Skin:
Instant Radiance and Rejuvenation: Hydrafacial delivers immediate results, improving your skin's tone, texture, and overall radiance. By unclogging pores, eliminating impurities, and boosting collagen production, this treatment reveals a youthful and glowing complexion.
Deep Hydration: Hydration is crucial for healthy, plump skin. Hydrafacial nourishes your skin with essential nutrients, antioxidants, and hydrating serums, ensuring it stays moisturized, dewy, and fresh.
Reduced Fine Lines and Wrinkles: Hydrafacial's gentle exfoliation and suction techniques help minimize the appearance of fine lines and wrinkles. By stimulating collagen and improving skin elasticity, this treatment revitalizes your skin, giving it a more youthful and firm look.
Transforming Your Skincare Routine:
To maintain healthy skin, it's important to follow a consistent skincare routine. Alongside regular professional treatments like Hydrafacial, remember to cleanse, moisturize, protect your skin from the sun, and nourish it from within with a healthy diet and hydration.

Embark on a skincare journey that leaves you feeling radiant and confident. Visit San Francisco Esthetics in the serene Serramonte Mall of Daly City, California, and experience the expertise of our friendly estheticians. Indulge in the luxury of Hydrafacial and say goodbye to dull skin. Embrace a new era of beauty and self-care, where healthy and glowing skin becomes your reality. Unlock your skin's true potential with Hydrafacial. Beauty begins with simple steps towards healthy skin!